Cute Pets Outdo Their Humans This Halloween with Epic Halloween Costumes That Wow the Internet
Home » Blog » Halloween's Hottest Trends, Little Ghost & Ghouls Corner , Halloween Headlines
November 6, 2017 By Cait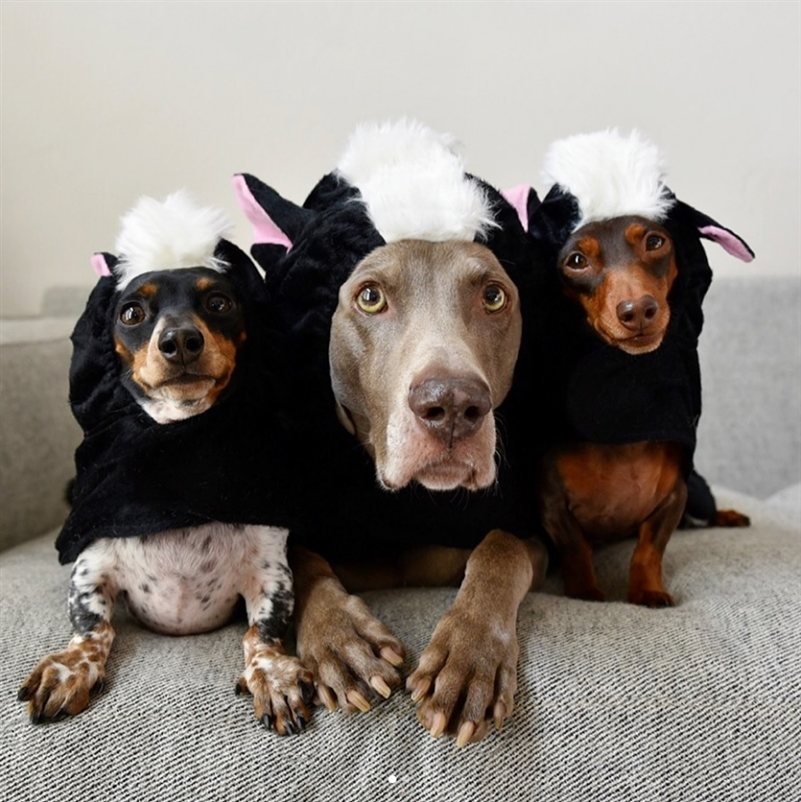 Harlow & her pals Indiana & Reese were cute little stinkers this Halloween.
Photo by:
HarlowAndSage, via Instagram.
Dressing pets up for Halloween has exploded in recent years, and some of the Internet's most popular pets have really outdone themselves this year, with iconic costumes and Halloween looks that will have you cooing, laughing, and just having a ton of fun.
We've put together a list of some of our favorite Halloween Pet Costumes for Halloween 2017:
Ellie Bean the Rescue - Ellie Bean is a tiny pup, and this year, she had a collab costume with some of her pup friends - Coconut Bean, and Louis Reginald, where Ellie & Coconut Bean dressed as deliciously adorable sushi, and Louis dressed as the hungry sushi chef. If this costume doesn't give you a giggle, then we simply don't know what will.
Harlow, Indiana & Reese - In another adorable group costume, Harlow the weimaraner,and her two pals Indiana and Reese, dressed up as some of the most adorable skunks we've ever seen for Halloween.
Barak & SoomSoom - These too loving siblings dressed as Little Red Riding Hood (SoomSoom), and the Big Bad Wolf - as Grandma, of Course (Barak). The duo looked absolutely adorable, and is sure to steal your hearts.
Sprout the Pup - Sprout went as one of the most adorable renditions of Oscar the Grouch we've ever seen this Halloween - definitely a winning costume!
Did You Dress Your Pet Up for Halloween This Year? Share Your Photos in the Comments Below!