Wholesome Halloween Movies to Take Your Mind Off of the Scary Stuff
Home » Blog » Halloween's Hottest Trends, Little Ghost & Ghouls Corner , Halloween Headlines
November 9, 2017 By Cait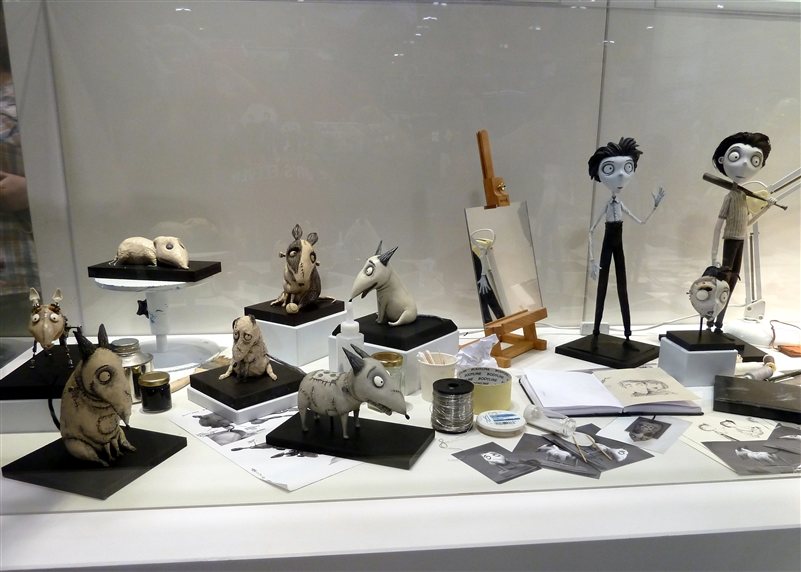 Figures from the Stop-Motion Film "Frankenweenie", a Wholesome Halloween Movie Everyone's Sure to Love!
Photo by:
Gabbo T, via Flickr. (CC BY-SA 2.0)
Have you watched one too many horror movies this Halloween season? If you've over-indulged in horror flicks and thrillers this past October, then you might be feeling a little...spooked. While there's a variety of ways to get over the spooky-ooky Halloween heebie-jeebies, we think that watching some FUN, hilarious Halloween movies to replace thoughts scary thoughts brought on by the horror flicks is a fun way to stay in the Halloween spirit while quelling those feelings of terror from watching one too many terrifying horror movies.
Here's our top picks for fun Halloween movies to watch:
Hocus Pocus (1993) - If you grew up in the 90s, you're probably already familiar with Hocus Pocus. A Disney classic, this film focuses on three over-the-top, ridiculous witches that are more funny than scary. While there are a few "jump out at ya" scares, this is a family-friendly film that's sure to be fun for everyone.


Casper (1995) - I mean his moniker is "The Friendly Ghost" - what could be more wholesome than that? If you've got to be haunted, at least it's by an adorable ghost that befriends your weird daughter, right?


Ernest Scared Stupid (1991) - Ernest, who stars in a bunch of silly movies filled with mishaps, accidentally awakens a devious troll on an unsuspecting town despite it resting peacefully for 200 years. How do they fix this problem? Well, Ernest teams up with a little old lady for some hilarious hijinks to save the town from total destruction. Classic.


The Nightmare Before Christmas (1993) - It's stop motion, it's a musical, there's a love story, and there's just enough Halloween fun to ensure that this is hands down one of the top Halloween "classics". The Nightmare Before Christmas really helped to put Tim Burton on the map, and it pairs his macabre style with some holiday hilarity that kids and adults of all ages are sure to love.


HalloweenTown (1998) - After learning she's a witch, a teenage girl has to figure out how to save a town filled with all sorts of supernatural creatures. Will she be able to save HalloweenTown in time? Find out in this cult classic that is absolutely family-friendly.


Frankenweenie (2012) - Although the Frankenweenie movie was only released in 2012, the story itself is much older - the full feature movie is in fact based on a 1984 short film of the same name, which we must say, we also recommend as a must-watch. After a young boy's dog is tragically killed in a car accident, his young owner, aptly named Victor Frankenstein, reanimates him using electricity - similar to the plot of "Frankenstein" (but cuter). This is another one of Burton's stop-motion classics, and despite the macabre themes, it's definitely heartwarming, and worth a watch through.


Addams Family Values (1993) - A personal favorite, this movie is the sequel to the first Addams Family movie, which came out just a few years prior. The movie starts off with the arrival of the newest Addams, an adorable baby that just so happens to be sporting a Gomez Addams mustache, and that seems to be immune to all harm. While there are some dark themes throughout the film, they're played off in a very light way, making this one of the most enduring Halloween family classics for generations.


It's the Great Pumpkin, Charlie Brown! (1966) - Ok, so this is THE Halloween Special to end-all Halloween specials, and it's wholesome through and through. If you love Halloween, and you're into spooky not scary, then you probably already know - this is hands down one of the best Halloween movies of all time, which is why it's been a favorite of Halloween lovers for over 50 years now.
What's Your Favorite Family Friendly Halloween Movie?
Let Us Know in the Comments Below!